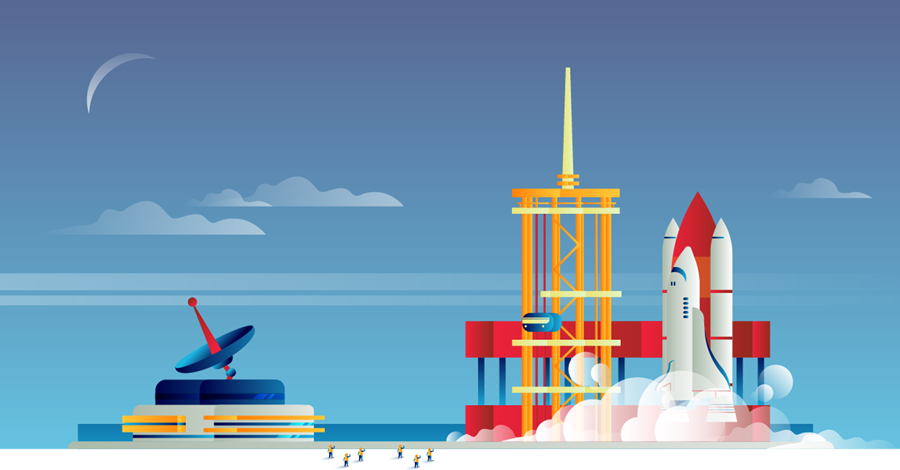 Just before you do, however, there are a few bits and pieces you need to make sure you've covered.
Hosting
Hosting describes the technology used to get your website on the Internet. Hosting companies will play 'host' to your website, email addresses, domain names, and other bits and pieces for your website.
The subject of hosting usually crops up towards the end of the project. Some web design companies will provide hosting others will recommend hosting companies (and that may depend on what you need). Alternatively, you may already have a host with whom you are perfectly happy. However, not all hosting companies work to the same specifications and consequently it doesn't automatically follow that the website you had developed for you will work on any host. For example, if your website has been written in PHP then it will only run on UNIX servers. If your website has been written in ASP it will only run on Microsoft servers.
if you're running an ecommerce store you may want to have two servers running the front-end of the website to make sure visitors can always access the website (even if one server is down)
There are other considerations also; how much disk space you will require (this could be an important factor if you are planning on hosting your own videos), how much bandwidth they will give you per month (if yours is a very popular site then you may need extra bandwidth to cope), how much redundancy you need in the system as you may want to duplicate some systems if they are mission-critical. For example, if you're running an eCommerce store you may want to have two servers running the front-end of the website to make sure visitors can always access the website (even if one server is down).
Below is a basic list of questions to ask your web developers and prospective hosting company. (Your web designers should be able to interpret any technical information which comes back from the hosting companies for you.)
Is the host cloud-based? (Ideally, "yes" to this)
What operating system is required?
How much disk space will be needed (now and in the future)?
Do we need a Content Delivery Network?
We have/expect to have X number of visitors per month
How much bandwidth will we need?
How much RAM will the server require?
What redundancy/fail-safes are built into the service
What is the backup policy?
Are the backups taken off-site and/or stored in a disaster-proof location?
There are plenty of ultra-cheap hosting businesses out there but in our experience, cheap solutions don't always provide the full array of support: Quality technical support, speedy issue resolution, hack-proof servers and sound backing up procedures are unlikely to be achieved for a few pounds a month.
Choosing a host is something you should do in conjunction with your web designers as they will be able to judge the needs of your website from a technical perspective.
Shameless Plug: We've been hosting websites for the better part of ten years. Our systems are fully redundant, backed up every two hours (both onsite and also to Amazon's servers), supported by qualified technicians and Puppet'd. (Puppet is a system which enables us to 'disaster recover' any website and have it back up and running in less than 30m. Most full rebuilds of a website would take at least half a day.
Search Engine Links (301 Redirects)
If you have an existing website the search engines will probably already know about it. They will also have referenced pages on your old site. The likelihood is that these URLs will no longer be the same on your new site. For example, www.mycompany.co.uk/company-info may now have changed to www.mycompany.co.uk/about-us. So, if someone were to click on the first link in Google (a reference from your old site) they would be redirected to your new site. However, whilst the page's content may exist its location will be different and the new site will simply report that the page is missing (this is known as a 404 error). Eventually, the problem will resolve itself because the search engines will update themselves to reflect the URLs on your new website but in the meantime, anyone using a search engine to visit your site will probably end up on a page claiming that what they were looking for doesn't exist. Additionally, search engines really don't like 404s since they provide a poor user experience so if a link on a search engine goes to a non-existent page there's a strong chance it will get removed from the listings altogether.
So if this happens to a lot of links to your website there's a chance they would 'downgrade' you ranking on the search results pages. (In fact, if a listing li
The easy way to avoid this is to provide a list of all the webpages on your website and the corresponding URL of the new site. You'll end up with a table which looks something like this;

Hand this list over to your web developers who will write a special script that points all the old URLs to their new destination. Now, if anyone clicks on an old URL from a search engine link the website will know where to redirect them.
If you have hundreds of pages on your website then this may be just too time-consuming to be practical. In that instance, you can use wild cards. A wild card (usually denoted with a "*") simply implies that anything can replace it.

In the example, pages with anything after /housesforsale/ in the URL will be redirected to the single page /selling-your-home.
It's even possible to have different domain names pointing to different parts of your new website. This can be particularly useful if you have a product or service name as your domain name. Here's an example…

Making Your Website Live
Once you've sorted out the domain names and links the site is ready to go live. Don't forget that if you are using the same host as your previous website you should take a backup of your old website first. Once the new site has been uploaded take a backup of that too. Your web designers can do this for you.
If you are hosting with a new company (or this is a new website) then you will need to repoint your domain names at the server where your website is hosted. Now, this can get very complicated because any change to your domain name could also affect where your e-mails are sent to so it's best to seek advice from your web designers directly. They will be able to tell you what needs changing. Better still if you can give them access to your domain name then they can make the necessary modifications for you. (The company that you bought your domain name from will have provided you with login details to administer the domain name. These are the details that you and your web designers will need.)
If you are uploading a new site 'over' your old one then you won't have to mess with your domain names because your new site will simply appear. However, if you are pointing your domain names to a new web host then it will take up to 2 days for the Internet's DNS servers to catch up with this change and for everyone in the world have access to your new site. In the interim, they will see the old site as long as you haven't removed it from your old hosting provider before you make the switch.